After a multi-million pound investment, soft drink company Radnor Hills opened its extensive facilities in Powys today.
To mark the opening, Lesley Griffiths, Welsh Minister for Rural Affairs, visited the Knighton site today (Thursday).
Lesley Griffiths with William Watkins from Radnor Hills (Photo supplied)
The investment has been used to build new production facilities and a quality assurance laboratory, as well as to create a new £2.5 million state-of-the-art staff office complex and conference facility from an old agricultural building on the site.
Upgrades have been made to a number of lines at the factory, including a new £750,000 labeling machine and conveyor system. A £4.5 million investment in a glass line has been completed in three phases, including the ability to produce cardboard cluster packs for retailers.
A further £1.5 million has been invested in an additional filler for a PET line and £750,000 has been spent on a new steam system.
During her visit, Ms. Griffiths met with Radnor MD William Watkins and was given a tour of the new facilities and sampled product samples, including Radnor's award-winning Heartsease Farm brand.
She also met some of Radnor's more than fifty food production apprentices.
Radnor's varied portfolio of drinks are all made with the exceptionally pure Welsh spring water sourced from the family farm's land, just minutes from the production line for maximum freshness.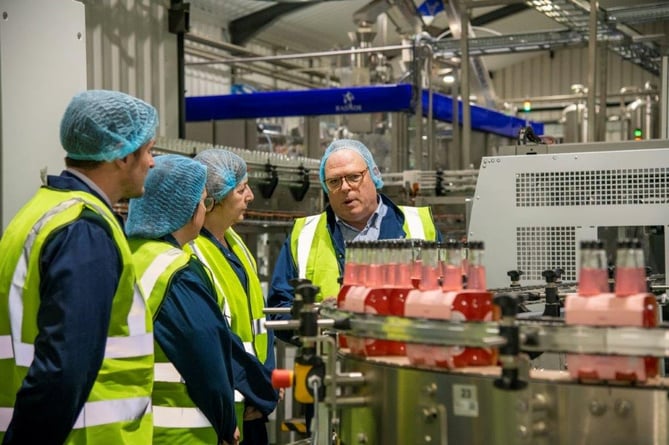 Mrs Griffiths visits a production line (Photo supplied)
Lesley Griffiths, Minister for Rural Affairs, said: "I am delighted to officially open the new offices for Radnor Hills today. The company embodies our vision of food and beverage, in its commitment to continuous innovation, embedding environmental sustainability into the company's operations and the value it places on its workforce.
"I would like to congratulate the team on this latest development and wish them all the best for the future."
William Watkins, Founder and Managing Director of Radnor, said: "These are exciting times for Radnor Hills and we are delighted to have the support of the Welsh Government and to welcome Lesley Griffiths here today.
"We are committed to continued investment to ensure our facilities are world class.
"With the opening of our new office complex, we are also investing in our brilliant team of people. More than 100 new jobs have been created in the last two years and further vacancies and apprenticeships will be available in 2023, in line with our expansion plans.
"We are also committed to environmental sustainability. Radnor is a zero-to-landfill site and our environmental management system and site are certified to ISO 14001 standards.
"We recently received planning permission for a £1.8 million solar park to power our manufacturing site. This will produce two megawatts of power, which is 21% of the company's energy needs, and will support our commitment to the planet to become more sustainable and protect the environment around us."
Founded in 1990 and with a turnover of £58 million (up from £41 million in 2021), the independent and family-owned Radnor Hills produces more than 400 million drinks every year.
The brands include Radnor Water, Radnor Splash, Heartsease Farm, Radnor Fizz and Radnor Fruits.
It is the only drinks manufacturer in the UK to produce drinks on site in all four pack sizes: glass, can, PET plastic and Tetra Pak. Clients include Sainsbury's, Asda and Morrisons, as well as the NHS and schools across the country.
The company is launching its first television campaign this summer after partnering with Alton Towers, the UK's largest theme park, for a two-for-one ticket promotion through Radnor Splash purchases.